In a perfect world every weld would be made with equal size material. Sometimes this is not the case. The following will explain how to weld metals of varying sizes together, properly.
First example:
Lets say you are making a set of metal shelves to hold some tubing or other heavy pieces. Your upright support beams are made from 3/8" steel flat stock 3" wide. Your shelves are going to be 1/4" plate spanning a distance of 36" and 24" wide. Now we need some support under this. Lets say we are going to use 3/16" steel flat stock 1" wide running down the entire underside of the 1/4" plate. With a few "arms" for width support
1) Prepare your surfaces for welding. Make sure there is no rust or scale on either piece and also remove any grease or grime. A wire brush or wheel should do the trick for this.
2) Fitment, mark on your piece of plate where you want the longitudinal support to be. You can use a permanent marker or soap stone. Center it up and then use some 90° magnets to hold it in place (If you don't have any you can hold it in place) tack it on 1 end. It doesn't need to be square at this point. Now, make sure that the piece meets the mark on the opposite end and tack it on that end as well. Now grab a square and get it straight. You should be able to bend your tacks a little without breaking them. If you barely touch it and the tack breaks then its not done right. Once it is square we can begin.
3) You don't need to weld the entire length of the support. This is a waste of time and filler. It also could warp the steel. Lets Make 6 Welds on each side 3" long. Get everything in a good position and start your arc. You want to start it on the thicker metal first. Slowly increase your current until you see a puddle start to form this should only take a few seconds. Now you can start getting the heat onto the thinner piece. Wait until they both join now you can start adding filler. You don't need a massive weld on this, the length from the inside of the corner (the root) to the outside of the weld (the toe) should not be more than 3/16"
4) add your "arms" for latitudinal support. Place them in between your previous welds. Butt the metal directly to your support. You can weld both sides or just 1. This will ensure there is no flex. Again you only need to weld this in a few spots down the piece. Use the above explained method and lets say make 2 welds 5" apart 2" long. Now in this case again both welds should be no more than 3/16" from root to toe.
When welding metals of different thickness your weld should always be about the width of the thinner piece. There are, however, some cases where this is not true. Here is an example:
Where I work we sell shielded level gages, among the many different types. We usually have them made by an outside company. From time to time I need to make a custom length gage from scrap due to the customer being in a rush (it takes 3-5 weeks for the other company to build them). The gage consists of a glass tube between 2 metal end blocks which have a thin metal shield welded to them.
Here are a couple pictures of the shield and end block: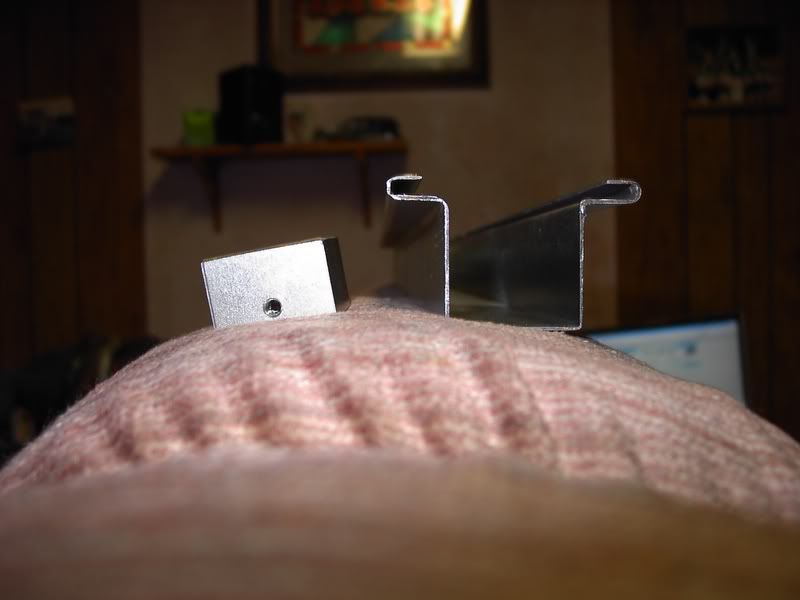 Note the end block is MUCH thicker than the shield. In this case I am welding a 316SS block to a carbon steel shield. The shield comes from the factory with a zinc plating on it. TAKE IT OFF, whenever there is a plating always remove it from the area of the weld, at least 3 or 4 inches away. The fumes that come off of that shit can really mess you up!
Here is a picture with the plating and with the plating removed:
After fitting the end block into the shield I clamped it and an aluminum backing plate into place. I was now ready to weld.
Electrode and Filler: I used a 1/16" electrode and 1/16" 316SS filler rod (always use a filler equal to the higher quality steel)
Welder Setting: 80a
1) I start the weld on the end block making a small puddle I then move the puddle close to the shield until it starts to creep back from the heat (this is where it gets tricky, timing is everything).
2)As soon as I see this I start adding filler and move along at a quick pace (this is called washing the pool). The weld is full length and is done at full current. This is to make sure at the quick pace the end block is still getting melted. Filler is dabbed in constantly. This actually acts as a coolant keeping the weld from burning through the metal.
Doing this without the backer would be almost impossible and is not suggested because you will definitely Warp the metal (trust me I have destroyed plenty of shields in the learning process). I can actually grab the shield bare handed only inches away from the weld, this is a testament of how well the aluminum works!
Here is a shot of the end result: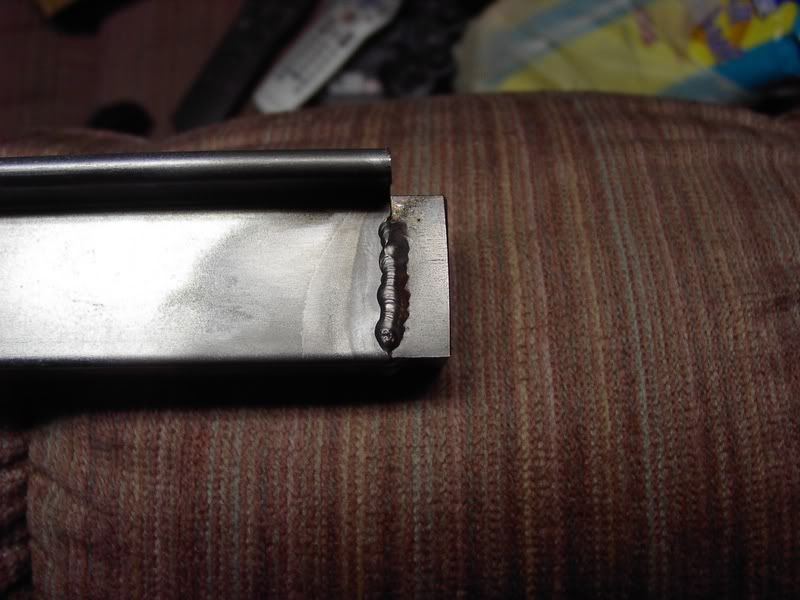 That weld took about 30 seconds and is about 1-1/2" long.
It is welded on 3 sides, only on the outside. And it is strong. I took a piece today and smashed it with a hammer and it didn't budge at all! Why did I do this. Well, in a rush yesterday to get it done, I welded the end block in backwards. I was rushing and not paying attention, not good. Luckily I cut the piece slightly longer so I could fine tune the length. I was able to cut the end off and be right on with the measurements. ALWAYS cut a little bit longer. It is easier to grind it down a bit than to make a new piece.
any questions just ask!